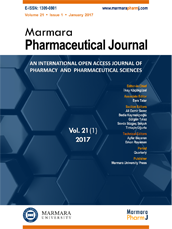 Editor-in-Chief
İlkay Küçükgüzel
Associate Editor
Aslı Türe
Online ISSN
2630-6344
Publisher
Marmara University
Frequency
Bimonthly (Six issues / year)
Abbreviation
J.Res.Pharm.
Former Name
Marmara Pharmaceutical Journal
Marmara Pharmaceutical Journal
2017 , Vol 21 , Issue 2
Biological Activities of Aerial Parts Extracts of Endemic Tanacetum Argenteum Subsp. Argenteum
1Marmara University, Faculty of Pharmacy, Department of Pharmacognosy, Istanbul, Turkey
2Marmara University, Faculty of Pharmacy, Department of Biochemistry, Istanbul, Turkey
3İstanbul University, Faculty of Pharmacy, Department of Pharmaceutical Microbiology, Istanbul, Turkey
4İstanbul University, Faculty of Pharmacy, Department of Pharmaceutical Botany, Istanbul, Turkey
DOI :

10.12991/marupj.300357
The objective of the present study was to investigate the antimicrobial and anti-proliferative activities of n-hexane, chloroform, methanol and aqueous methanol extracts obtained from Tanacetum argenteum subsp. argenteum aerial parts. Antiproliferative activity was tested in vitro against four human cancer cell lines (A549: lung adenocarcinoma, Hela; cervix adenocarcinoma, HT-29: colon adenocarcinoma, MCF-7; breast adenocarcinoma) using MTT assay. Antimicrobial activity was assessed by micro-broth dilution technique against Staphylococcus aureus ATCC 29213, Staphylococcus epidermidis ATCC 12228, Escherichia coli ATCC 25922, Enterococcus faecalis ATCC 29212, Klebsiella pneumoniae ATCC 4352, Pseudomonas aeruginosa ATCC 27853, Proteus mirabilis ATCC 14153, and Candida albicans ATCC 10231. Hexane extract inhibited proliferation of HT-29 and MCF-7 by 75 and 74% while chloroform extract against the same cancer cell lines displayed inhibition of 89 and 73% at the concentration of 30 μg/mL, respectively. Also, chloroform extract at the same concentration showed significant anti-proliferative activity against A-549 and HeLa with inhibition values of 75% and 62%. Chloroform extract exhibited moderate antibacterial activity against Staphylococcus aureus and S. epidermidis with the MIC values of 625 μg/mL. Methanol and aqueous methanol extracts showed weak antimicrobial activity against Staphylococcus epidermidis and Candida albicans with MIC values of 1250 μg/mL. The results showed that n-hexane and chloroform extracts have significant anticancer activity against cancer cell lines used in this study.
Keywords :

Asteraceae, antimicrobial activity, anti-proliferative activity, n-hexane extract, chloroform extract